Diving in Sharm El Sheikh
The historic peninsula of Sinai lies at the extreme northern end of the Red Sea, cut off on its west coast from the Egyptian mainland by the Gulf of Suez, and from the Arabian peninsula on its east coast by the Gulf of Aqaba. This area has had a rather bloody past but that doesn't stop scuba divers flocking to see this underwater wonderland now.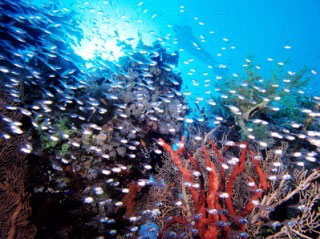 Located quite close to the southern tip of the Sinai Peninsula, Sharm El Sheikh is the most popular dive destination in the Red Sea and is the departure port for many liveaboard safaris around the peninsula and the northern Red Sea, as well as for diving day trips from the local holiday resorts.
The local dive sites are often used for student training and for introduction dives. However, you don't need to travel far before you reach the exciting stuff.
To the east at the mouth of the Gulf of Aqaba lies Tiran Island and the Straits of Tiran, famed for their superb reefs and large fish and shark action. To the south lies Egypt's first marine protected area and national park, Ras Mohammed, with its colourful soft coral walls and buzzing marine life. And over on the west coast of the Sinai Peninsula but still easily accessed on diving day trips from Sharm El Sheikh, is the Dunraven and the world famous Thistlegorm World War II shipwreck. No trip to the Red Sea would be complete without a dive or two here.
It should not be forgotten too that Sharm El Sheikh is not so far from the northern Hurghada dive sites so wrecks such as the Rosalie Moller and the Abu Nuhas family of wrecks are often visited by Sinai liveaboards departing from Sharm.